Darvin Moon
A 45-year-old Maryland lumber business owner who finished 2nd in the 2009 World Series of Poker Main Event. Moon, who had no prior WSOP cashes, earned $5 million for his runner-up finish.
More Information
Darvin Moon stated he had no interest in fame or sponsorship deals before going into the final table as one of the November Nine. He had more than 25% of the chips in play as the chip leader heading into the final table and was considered one of the favorites. On the other hand, many said that Moon wasn't the favorite because of the amount of notable pros at the final table, including Phil Ivey.
Picture
This is a picture of Darvin Moon at the 2009 World Series of Poker final table: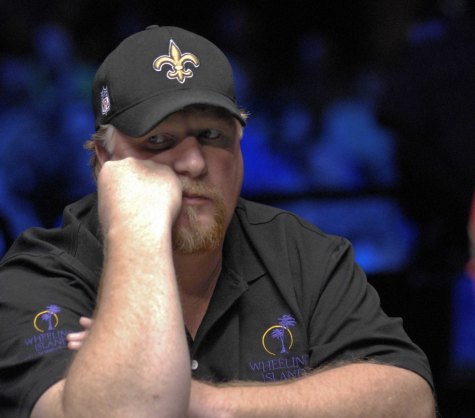 Moon Video Interview
Here's an interview that Darvin Moon did with PokerNews after making the final table:
Bio
Darvin Moon is a 45 year-old logging company owner who hails from Oakland, Maryland. Darvin learned the game of poker at the tender age of 12 from his grandfather, who taught him seven card stud. He loved the competitive nature of the game and has played throughout his life, however he only learned Texas Hold'em three years ago. The rest, as they say, is history. Moon held the chiplead heading into final table play at the 2009 WSOP Main Event, and although he lost heads-up to Joe Cada, $5 million is plenty of money for a humble logger.
For more information about Darvin Moon, check out his profile page on PND.