Joe Cada
Joe Cada is a professional poker player and the winner of the 2009 World Series of Poker.
Bio
For most young poker players, the decision to drop-out of school and 'go pro' is one met with disdain and caution, but for Joe Cada, that choice turned him into a millionaire. Hailing from Shelby Township, MI, Cada enrolled in classes at nearby Macomb Community College, but quickly realized that school was not for him. Fast forward to July 15, 2009, when Joe validated his decision to drop-out of school by earning a spot at the 2009 WSOP final table, which guaranteed him at least $1.2 million, and a chance at $8.5 million. When the dust settled, the last of the November Nine left standing was Cada, who at the age of 21, became the youngest player to win the World Series of Poker.
Prior to his crowning achievement, Joe Cada already had two WSOP cashes to his name: 64th in a $2500 NL event for $6K and 17th in a $1500 NL event for $21.5K. All told, Cada's WSOP earnings exceed $8.6 million.
For more information about Joe Cada, check out Poker News Daily.
Sponsorship
Upon making the WSOP final table, Cada was signed by PokerStars.
CLICK HERE to Download PokerStars Now!
Picture
This is a picture of Joe Cada at the 2009 World Series of Poker final table: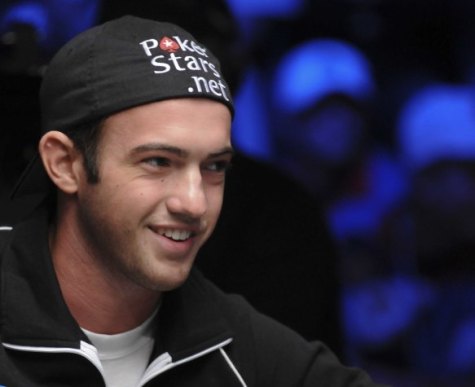 Video Interview with Cada
Here's an interview that Cada did with PokerNews after making the final table:
More About the Final Table
The final tablers at the World Series are also known as the "November Nine" because of the four month delay in between the bulk of the main event play and the conclusion of the final table.
The final table of the 2009 World Series of Poker included a vast array of players from the best player in the world (Phil Ivey) to a logger from western Maryland who had never been to Las Vegas before the main event (Darvin Moon).
Heads-Up Play
When play was three-handed, Joe Cada crippled Frenchman Antoine Saout in nasty fashion as his ducks spiked a deuce to draw out on Saout's pocket queens. A few hands later, Cada finished Saout off when his A-K beat the Frenchman's snowmen, which set the stage for a heads-up battle with Darvin Moon.
Even though Cada started heads-up play with a 2-1 chip lead, the match was quite swingy as both players traded big blows. In perhaps his most important hand of the whole tournament, Cada opened to 3 million on the button and Moon called. The flop came down Tc 5d 9h and both players checked. When the Td fell on the turn, Cada led 3 million into a pot of 6.5 million, only to see Moon make a huge all-in move. After tanking for a while, Cada decided to make a hero call with J9 (second pair), and was able to hold up against Moon's 78 (an OESD).
On the final hand of play, Cada opened to 3 million on the button and when Moon three-bet to 8 million, Joe, who had Moon covered, quickly moved all-in with his 99. Moon snap-called with his QdJd, but when the board ran 8c 2c 7s Kh 7c, Joe Cada's 9s were good and he become the 2009 WSOP Main Event Champion.
Post-WSOP Final Table Interview
An interview with Joe Cada, the 2009 WSOP Main Event Champion. On the final hand of play, Cada's 99 won a race vs. Darvin Moon's QJ.